Temporary exhibitions
At the Jardins des Martels, it's not only floral design that's in the spotlight!
To enhance your visual experience, we regularly invite local artists to exhibit their work outside gallery walls, in the heart of our park.
So you can admire their original artwork as you wander round the gardens.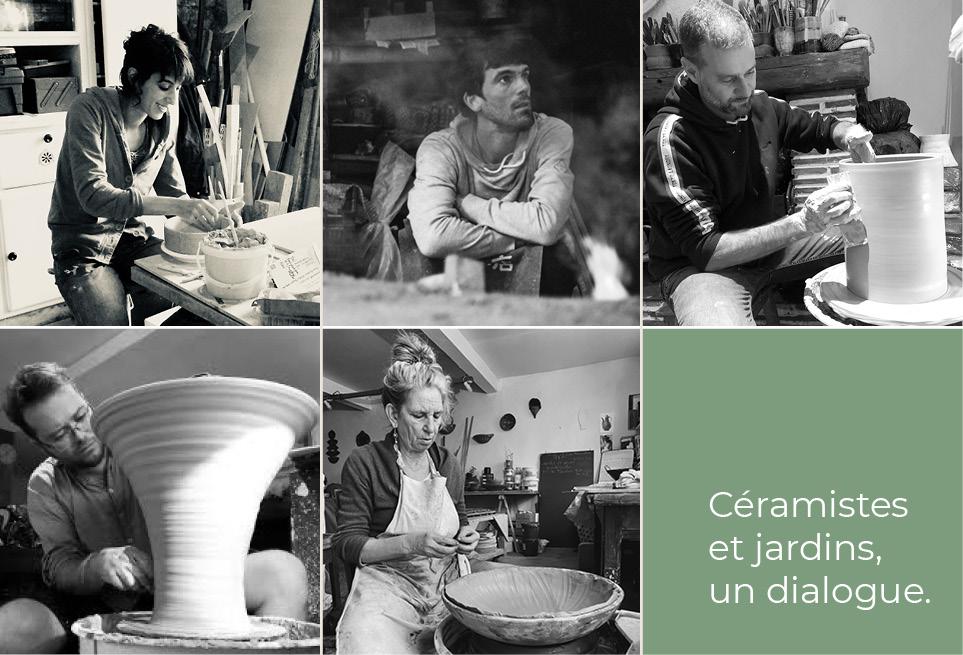 2021 : Ceramists and gardens, a dialogue.
From May 8 to September 30, 2021, five ceramists inspired by the place will exhibit in the lush greenery of the Gardens.
Each in his personal style, Sébastien Barrère, Chloé Courbet, Sébastien de Groot, Johanna Grothendieck and Mathieu Hettema have created and exhibit their pieces where material, form, fantastic or more traditional universe, inhabit the site and make you live discoveries over the course of your walk.
They then invite you to visit their workshops located around in order to continue your journey according to your affinities.
Enjoy your visit and discoveries !
Read more
Show less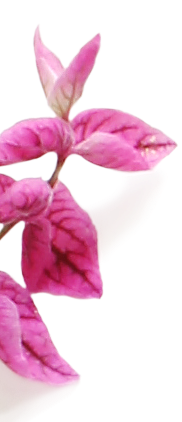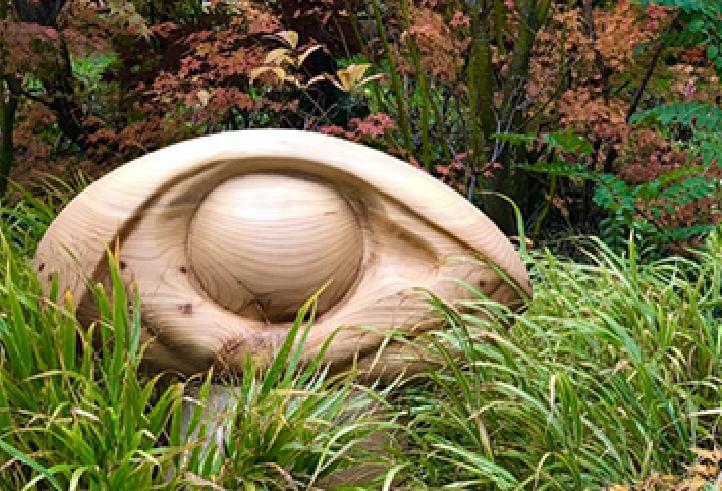 2019 : Yoann Bonhoure : wood carvings
"Yoann's sculptures invite the visitor to slow down, observe, listen, feel. In a world where everything is going faster and faster, it has become important to find places and moments where we can stop and be silent . "
 
A graduate of the Beaux-Arts in Toulouse in 2011, Yoann then perfected himself in woodworking and combined artisanal and creative practice. Today he feels the need to express himself more with sculpture, as if there had been maturation. Each work he creates is born from an idea, an intuition or a message to convey. There is a need to reconnect with the Earth, with nature, and with oneself. This becomes essential to preserve a certain harmony between humans and their environment.
"There is nothing fancy about what I'm trying to create, otherwise I wouldn't. I want to convey a positive, simple and touching message."
Here is what drives the creation of her sculptures, as well as a sensitivity for wood, a noble and living material that resonates with itself through this communion with nature.
Read more
Show less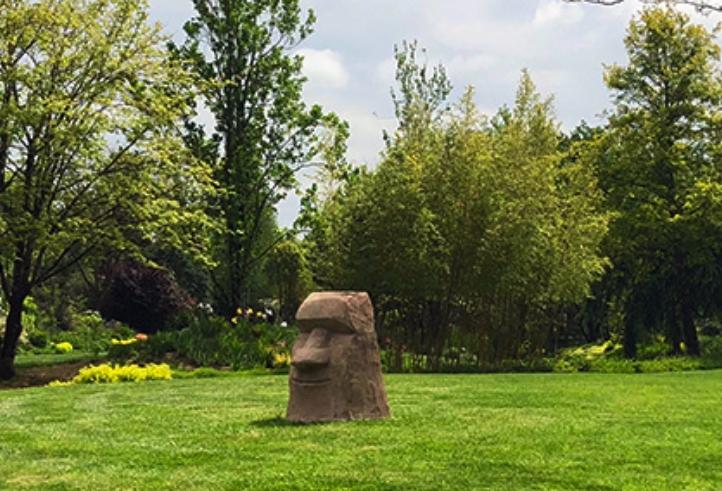 2018 : Xavier Saggesi & Bulle d'oz : sculptures and totems
Xavier develops his activity by proposing projects to "scenograph" public or private spaces with sculptures specially designed and produced according to the places (Parks and Gardens). Its objective: to surprise the public, to amaze them and to trigger emotion and discussion. He also works on sensory spaces, in particular for establishments for disabled adults. The concept exists, of course, but everything that is offered is plastic! He, for equivalent budgets, wants to bring magic, trigger emotion and awaken the senses with noble and natural materials.
The sculptures exhibited in the Jardin des Martels will for the most part be designed for the spaces they will come to inhabit.
Read more
Show less
2017 : Pierre Treilhes : metal sculptures
First a painter, Pierre Treilhes gradually lets himself be invited by the world of sculpture in which he will become the master of life for abandoned objects.
Pierre Treilhes' creations are born from old abandoned, used, or even rusty tools.
He is a talented artist who subjects metals to the torment of fire, so that in the embers and sparks, works that are sometimes poetic and peaceful, sometimes full of ardor, sometimes full of ardor, where the movement involves the viewer in a relationship where surprise gives way. not to admiration.
The unpredictable is organized under his hand, arranges with patience, is organized to offer a magical composition whose final bouquet is access to beauty.
Read more
Show less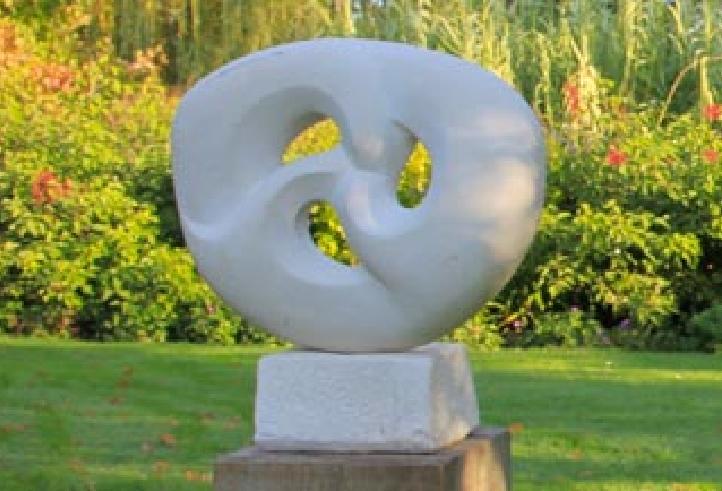 2016 : Marlie Kentish Barnes : Sculptures
These sculptures represent as always a testimony of my connection with the stone, as well as with the physical and emotional world around and inside me. They stem from the enormous pleasure I experience during creative expression.
In some sculptures, I started to integrate found objects and sometimes engraved writings, thus transporting the work to another dimension - that of tales and dreams. At the same time, a funny keyhole or a church window, for example, may be at the origin of the work.
I hope that these sculptures will enchant visitors during their walks around these magnificent Jardins des Martels.
Read more
Show less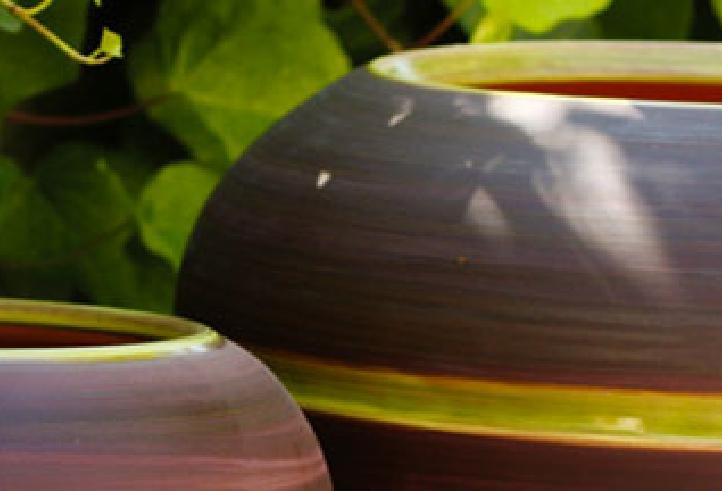 2015 : Albi pottery
Turn the clayey earth to give life to a shape and find the color that will highlight it, sublimate it. It is a team which gives its soul to Clair de Terre, an expertise, the desire every day to do well, and to learn again and again from this rich profession and which obliges you to remain humble in front of the discoveries of the technique.
Read more
Show less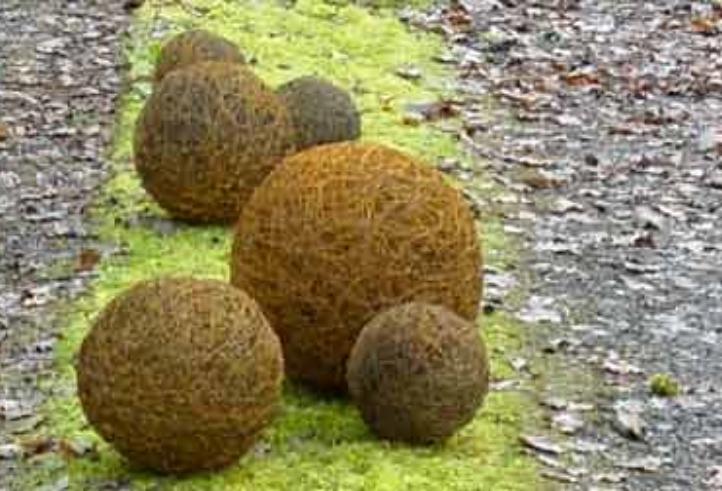 2014 : Atmosfleur - Lya Marino
Creators of aesthetic atmospheres, Lya and Laurent Marino are inspired by the surrounding nature, its seasons, its shapes and its colors. In constant research, they have the ability in their work to capture the various textures and patterns that plant and mineral materials offer us. It is thanks to this that Atmosfleur Creations offers decorations for gardens but also for interiors, decorations for your events, store facades, festival decoration ...
The 2014 exhibition was designed so that the works of Atmosfleur Creations fit into the garden, the different creations are married to nature throughout the season giving the impression that they were an integral part of the landscape. . By visiting the Jardin des Martels in 2014, you were able to discover the plant paintings and interior lotus creations by Lya Marino on display at the garden reception. And also the exterior works installed on the garden tour, wire spheres, woven spheres, nests in the trees, breezes seen near the pond, and other surprises...
Read more
Show less